Table Tennis Therapy for Alzheimer's Disease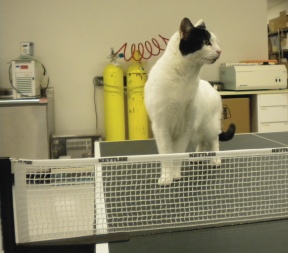 Talking about table tennis makes us
remember our good friend,
Gangsta the cat.
Memories are precious;
do what we can to protect them.
ATS is in Booth 114 at the Alzheimer's Association International Conference in London this week. Did you know that table tennis is widely reported to be and effective therapy for patients with Alzheimer's Disease? This was news to us, but made us even more happy for ATS associates to be playing every Friday afternoon.
Check out these links to articles on Table Tennis as an Alzheimer's Treatment.
---
Alzheimer's Disease Products
TARGETED TOXINS
Tools for Eliminating Cells that Express a Cell Surface Marker
ANTIBODIES
Tools to Assay Cells Related to Parkinson's Disease
---
Come Visit Us at the Alzheimer's Association International Conference
Booth 114 – London UK July 16-20
Pick up your Knockout Puzzle.  Denise will be ready to answer your targeting questions.