Agents of Interest in Pain Research
Agent
Target
Lesioning Use
192-IgG-SAP
Cat. #IT-01
p75NTR, low affinity NGFR
(cholinergic basal forebrain, cerebellar Purkinje neurons,
postganglionic autonomic neurons
and some primary sensory neurons)
Immunolesioning
Anti-DBH-SAP
Cat. #IT-03
Dopamine beta hydroxylase
(adrenergic and noradrenergic neurons)
Immunolesioning by application
to either dendrites/soma or
by retrograde axonal transport
Anti-SERT-SAP
Cat. #IT-23
Sertonin transporter
(serotonergic neurons)
Immunolesioning
Dermorphin-SAP
Cat. #IT-12
mu opioid receptor
(striatal neurons, lamina II dorsal horn
nociceptive internerons,
ventral medulla)
Direct application,
spinal intrathecal injection
OX7-SAP
Cat. #IT-02
Thy-1
(all rat neurons and some T lymphocytes)
Suicide transport in both peripheral
and central nervous systems
SSP-SAP
Cat. #IT-11
Neurokinin-1 receptor (NK-1R)
(striatal cholinergic interneurons, dorsal
horn nociceptive projection neurons)
Direct application to dendrites/soma,
spinal intrathecal injection
Note: Only antibody-toxin conjugates undergo retrograde transport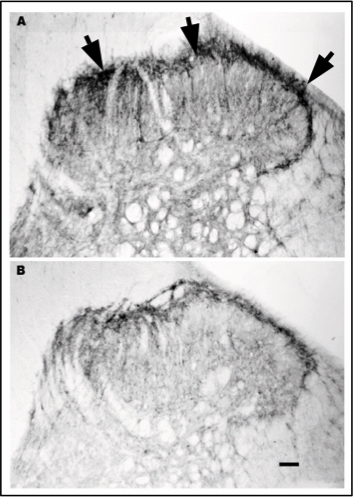 Effects of intrathecal SP-SAP on NK-1r-expressing rat dorsal horn neurons.
A) Normal immunoperoxidase staining for NK-1r after vehicle injection (arrows).
B) Decreased NK-1r staining after intrathecal administration of SP-SAP (175 ng).
Magnification bar in B indicates 100 μm. Counts of NK-1r-expressing neurons in deeper laminae revealed that cell loss was limited to the superficial laminae (I and II).