NGFr (mu p75) Rabbit Polyclonal, affinity-purified (Cat. #AB-N01AP)
Objective: To determine if differentiated neural crest cells are promising supporting cell candidates to aid in peripheral nerve repair.
Summary: In this study, neural crest cells were differentiated from human embryonic stem cells. NGFR (mouse monoclonal, 1:100) Immunocytochemistry.  The specificity of NGFR antibody was validated by immunocytochemical staining of both hESCs- and MACS-enriched cells.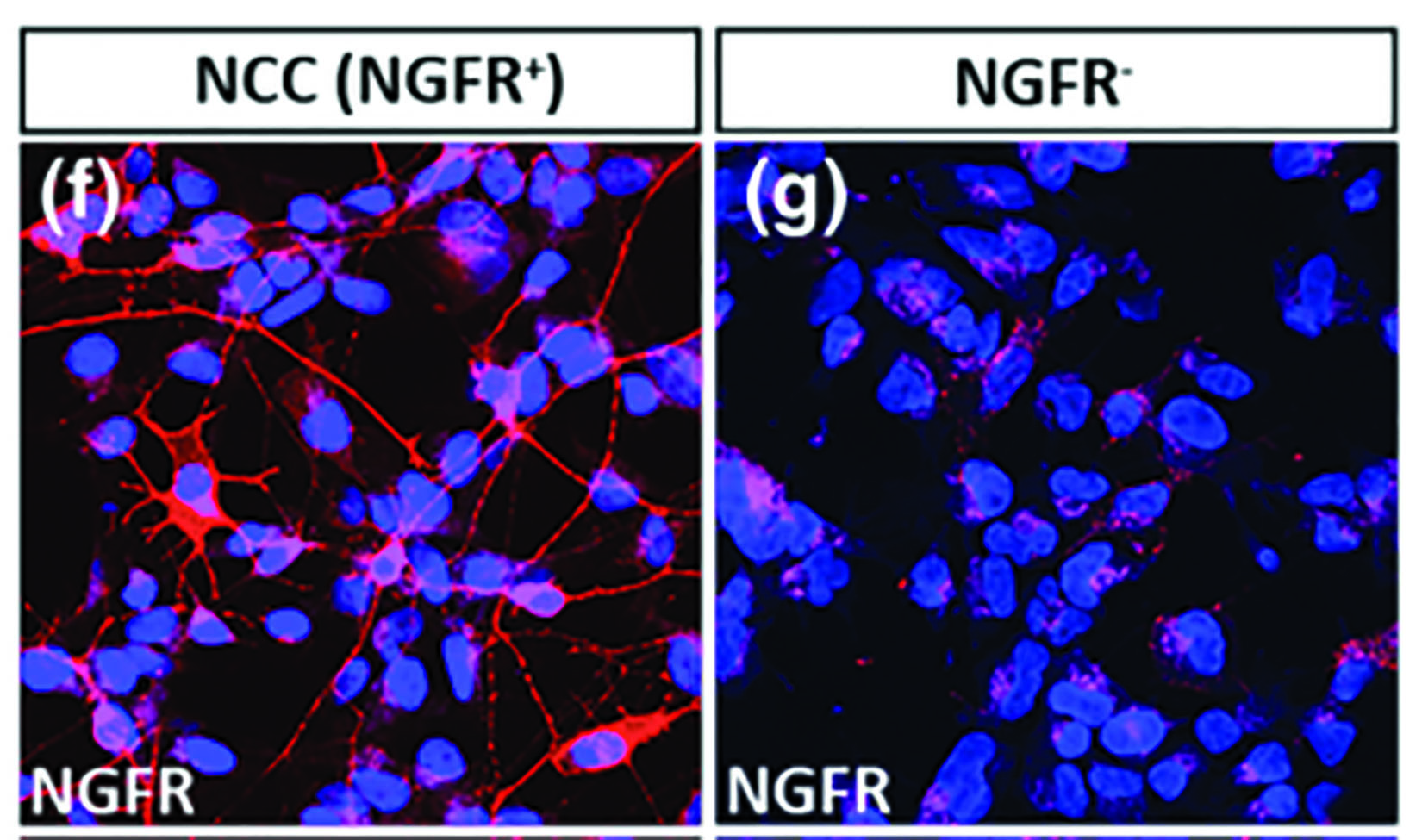 Jones I, Novikova LN, Novikov LN, Renardy M, Ullrich A, Wiberg M, Carlsson L, Kingham PJ. (2018) Regenerative Effects of Human Embryonic Stem Cell-Derived Neural Crest Cells for Treatment of Peripheral Nerve Injury.J Tissue Eng Regen Med 1-11.
Lee G, Kim H, Elkabetz Y, Al Shamy G, Panagiotakos G, Barberi T, Tabar V, Studer L. (2007) Isolation and Directed Differentiation of Neural Crest Stem Cells Derived from Human Embryonic Stem Cells. Nat Biotechnol, 25 (12):1468-1475. 2007/11/27.
---
The p75 neurotrophin receptor (p75NTR), also known as the low affinity nerve growth factor receptor, binds nerve growth factor, brain-derived neurotrophic factor, neurotrophin-3 and neurotrophin-4 with varying specificities. The p75NTR plays an important role in neurotrophic factor signaling and has been shown to modulate the susceptibility of selective cellular populations to programmed cell death.
This antibody recognizes p75NTR in mouse. The antisera was developed in rabbit using an extracellular fragment from the mouse p75 receptor (amino acids 43-161). The antibody was affinity-purified using the extracellular domain of p75. The antibody is routinely tested by flow cytometry.
Applications include immunohistochemistry, immunocytochemistry, flow cytometry, and targeting.
Interested in eliminating the cells that express NGFr?
mu p75-SAP (Cat. #IT-16) is a tool for eliminating cells that express p75NTR in mouse; targeted via NGFR monoclonal antibody, eliminated via saporin.
Conjugation of a low affinity nerve growth factor receptor (p75NTR) antibody to saporin has produced a cytotoxin that eliminates the CBF neurons, while sparing neighboring neurons that express GAD, calbindin and parvalbumin. mu p75-SAP eliminates cells expressing p75NTR in mouse.
Permanent and selective removal of cholinergic forebrain neurons makes an important animal model for the study of behavior, neuronal loss (e.g. Alzheimer's disease), plasticity of other systems in response to loss, replacement therapy, and drug effects and dependence.