Gene therapy has been proposed for a variety of genetic disorders, including severe combined immunodeficiency, but it has not yet found routine use in the clinic, in part because of potential complications. To help pave the way for safer translation of such gene therapy, Schiroli et al. studied potential approaches to gene therapy in mouse models of severe combined immunodeficiency.
The authors analyzed outcomes to find the safest most effective method based on:
Different approaches to conditioning,
Different numbers of gene-edited cells,
Different techniques for editing the faulty gene.
PRECLINICAL MODELING HIGHLIGHTS THE THERAPEUTIC POTENTIAL OF HEMATOPOIETIC STEM CELL GENE EDITING FOR CORRECTION OF SCID-X1. Schiroli, G, Ferrari, S, Conway, A, et al. (2017). Sci Transl Med, 9 (411):2017/10/13. PMID: 29021165
Mice were treated with a single dose of CD45 antibodies conjugated to the protein synthesis inhibitor toxin Saporin (CD45-SAP)*, which caused substantial depletion (~70%) of the HSPC compartments and milder depletion of the more mature cell populations and transplanted with 10% wild-type (WT) cells 3 days later.
*CD45-SAP (biotinylated CD45 antibody mixed with Streptavidin-ZAP)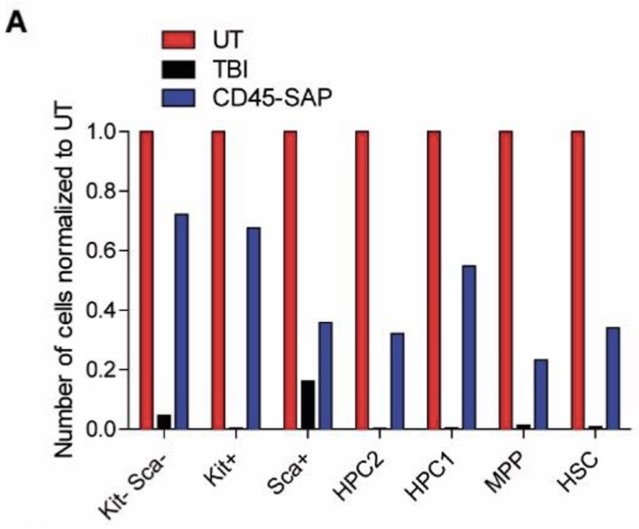 ---
Streptavidin-ZAP (Cat. #IT-27) converts biotinylated materials into targeted toxins. Streptavidin is a tetrameric protein (molecular weight 53 kDa in its recombinant form), with each subunit able to bind a single biotin molecule. The bond between streptavidin and biotin is rapid and essentially non-reversible, unaffected by most extremes of pH, organic solvents, and denaturing reagents. It is the strongest known noncovalent biological interaction (Ka = 1015 M-1) between protein and ligand. The streptavidin used to make Streptavidin-ZAP contains no carbohydrate group and has a neutral isoelectric point, which therefore reduces the nonspecific binding as compared to avidin. A variety of molecules, including lectins, proteins, and antibodies, can be biotinylated and reacted with streptavidin-labeled probes or other detection reagents for use in biological assays.
Streptavidin-ZAP is also available in three kit variations: Z-kits (KIT-27-Z) include everything you need to perform in vitro internalization assays with your biotinylated targeting agent. For in vivo assays, use KIT-27-A for antibodies and KIT-27-B for peptides.
Buy any size of the products listed above and get a second vial free on any online order. Enter Code StrepBlast.
Offer expires 7 November.