One of the more common methods of using Streptavidin-ZAP is to couple the complex with biotinylated antibodies. However, there are also many instances of biotinylated ligands, peptides, and even biotinylated major histocompatibility complex (MHC) tetramers in immunology fields.
B-Cell Targeting. An example of utilizing Streptavidin-ZAP to study ligands that target CD22 were shown by Collins et al. [1]. CD22 is a potential target for immunotherapy of B-cell lymphomas. The authors examined the equilibrium between CD22 and the cis and trans forms of its ligands using high affinity sialoside probes. They also demonstrated that a biotinylated probe specific for CD22, when combined with Streptavidin-ZAP, can eliminate several different lymphoma cell lines.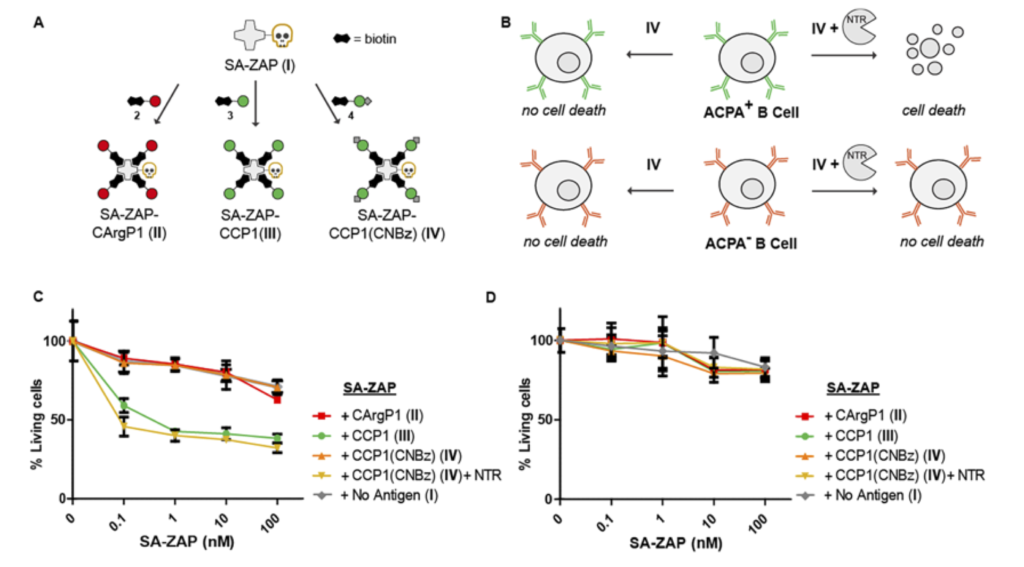 Rheumatoid arthritis is a chronic disease that is accompanied with anti-citrullinated protein antibodies (ACPA) produced by autoreactive B cells. A study in 2018 used a synthesized cyclic citrullinated peptide (CCP) antigen suitable for B-cell receptor binding and demonstrated that binding by ACPA was impaired upon manipulation of the residue [2]. The data were generated using biotinylated CCP mixed with Streptavidin-ZAP in cell viability assays. The results marked an important step towards antigen-selective B-cell targeting in general, and more specifically in rheumatoid arthritis.
T-Cell Targeting. An example of using Streptavidin-ZAP to deplete specific T cells was published in 2010; Akiyosi et al. used the dendritic cell-associated heparan sulfate proteoglycan- dependent integrin ligand (DC-HIL) as the targeting agent. DC-HIL is exclusively associated with syndecan-4 (SD-4) which is expressed on some activated T cells [3]. A similar study was done with Sézary syndrome cells that overexpress syndecan-4 [4].
Hess et al. investigated whether pathogenic T cells could be depleted via Streptavidin-ZAP coupled to MHC class I tetramers to kill antigen-specific CD8+ T cells [5]. Their work showed the therapeutic potential for using cytotoxic tetramers to eliminate specific T cells. This same strategy was employed in vivo to delay diabetes in non-obese diabetic mice [6]. The Hess group also used biotinylated peptide-MHC class I tetramers with Streptavidin-ZAP to selectively deplete a population of alloreactive T cells in mice to determine that toxic tetramer administration prior to immunization increased survival of cognate peptide-pulsed cells in an in vivo cytotoxic T lymphocyte assay and reduced the frequency of corresponding T cells [7]. More research towards T-cell depletion utilizing Streptavidin-ZAP and biotinylated MHC tetramers came from Sims et al. where they found that following a significant transient depletion of cells, the population rebounded and reached a higher percentage of total CD8+ T cells than before the depletion. This research provides helps further understanding of the 'flexibility and turnover' of these cells [8].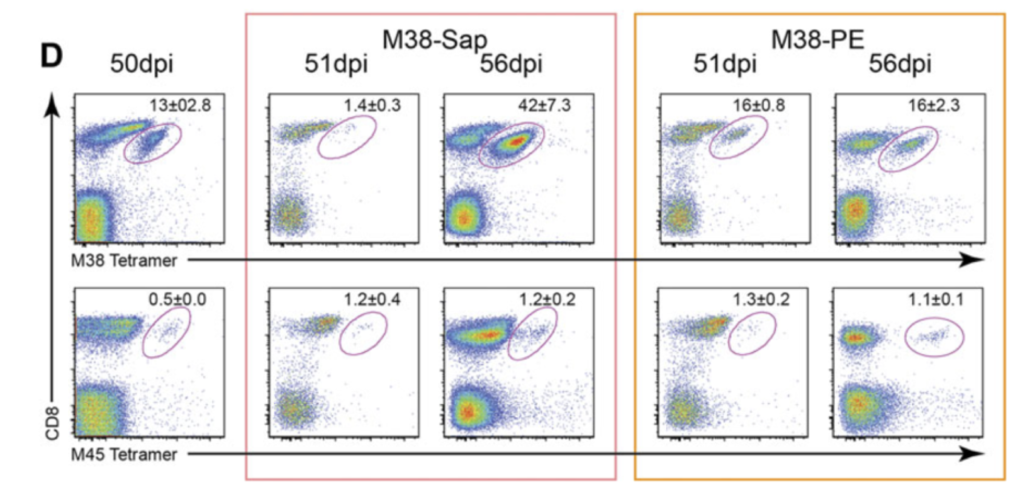 Other Applications. Outside of T cells and B cells, Streptavidin-ZAP has also been used to deplete dendritic cells (DC). Alonso et al. depleted inflammatory DCs with biotinylated anti- CD209 via intravenous injection in a mouse animal model of induced inflammatory DC formation [9]. The authors suggest that the depletion of inflammatory DCs could be useful in understanding inflammatory diseases such as psoriasis. Depletion of natural interferon-producing cells (IPCs) was demonstrated with an IPC-specific biotinylated antibody in vitro [10].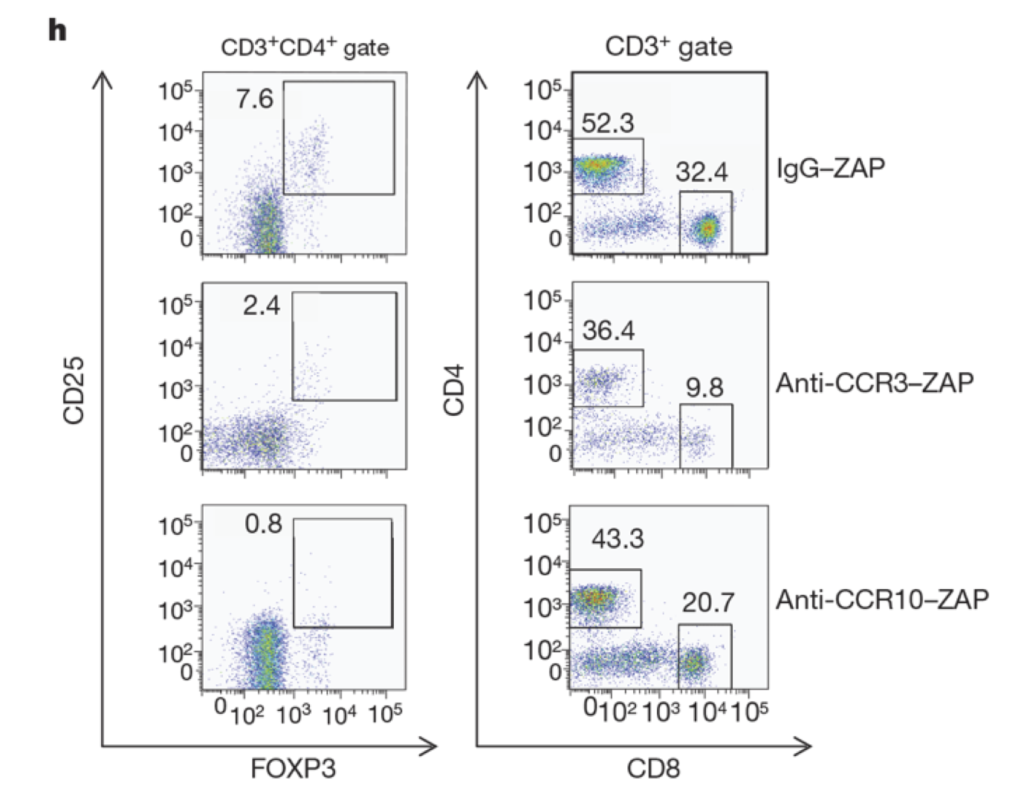 Facciabene et al. made immunotoxins with Streptavidin-ZAP to biotinylated antibodies for CCR10 and CCR3 (Anti-CC10-Saporin and Anti-CCR3-Saporin). They investigated whether a direct link between tumor hypoxia and tolerance occurs through the recruitment of regulatory cells [11]. Their findings showed that peripheral immune tolerance and angiogenesis programs are closely connected and cooperate to sustain tumors.
References