Anti-SERT-SAP, Cat. #KIT-23
Serotonin-Specific Lesions of the Dorsal Raphe Disrupt Maternal Aggression and Caregiving in Postpartum Rats. Holschbach MA, Vitale EV, & Lonstein JS. (2018). Behav Brain Res, in press.
Objective: To determine the effects of behavioral modifications associated with early motherhood by permanently disrupting serotonin signaling at one of its primary sources, the dorsal raphe (DR).
Summary:
Prepartum serotonin-specific lesions of the DRdm impaired maternal aggression.
Larger postpartum DR serotonin lesions affected both aggression and caregiving.
DR serotonin lesions did not affect postpartum anxiety,
Serotonin fibers in the anterior hypothalamus were reduced by DRdm lesions.
Serotonin from DRdm to AH may be especially involved in maternal aggression.
Method: Serotonin-specific lesions centered on the dorsomedial DR (DRdm; subregion most implicated in emotional behaviors) were induced at mid-pregnancy (day 15) or early postpartum (day 2) in rats using a saporin-conjugated neurotoxin targeting the serotonin transporter (Anti-SERT-SAP).
---
Anti-SERT-SAP (Cat. #KIT-23):
A tool for eliminating cells that express serotonin re-uptake transporter; targeted via a monoclonal antibody to the fourth extracellular domain of SERT, eliminated via saporin.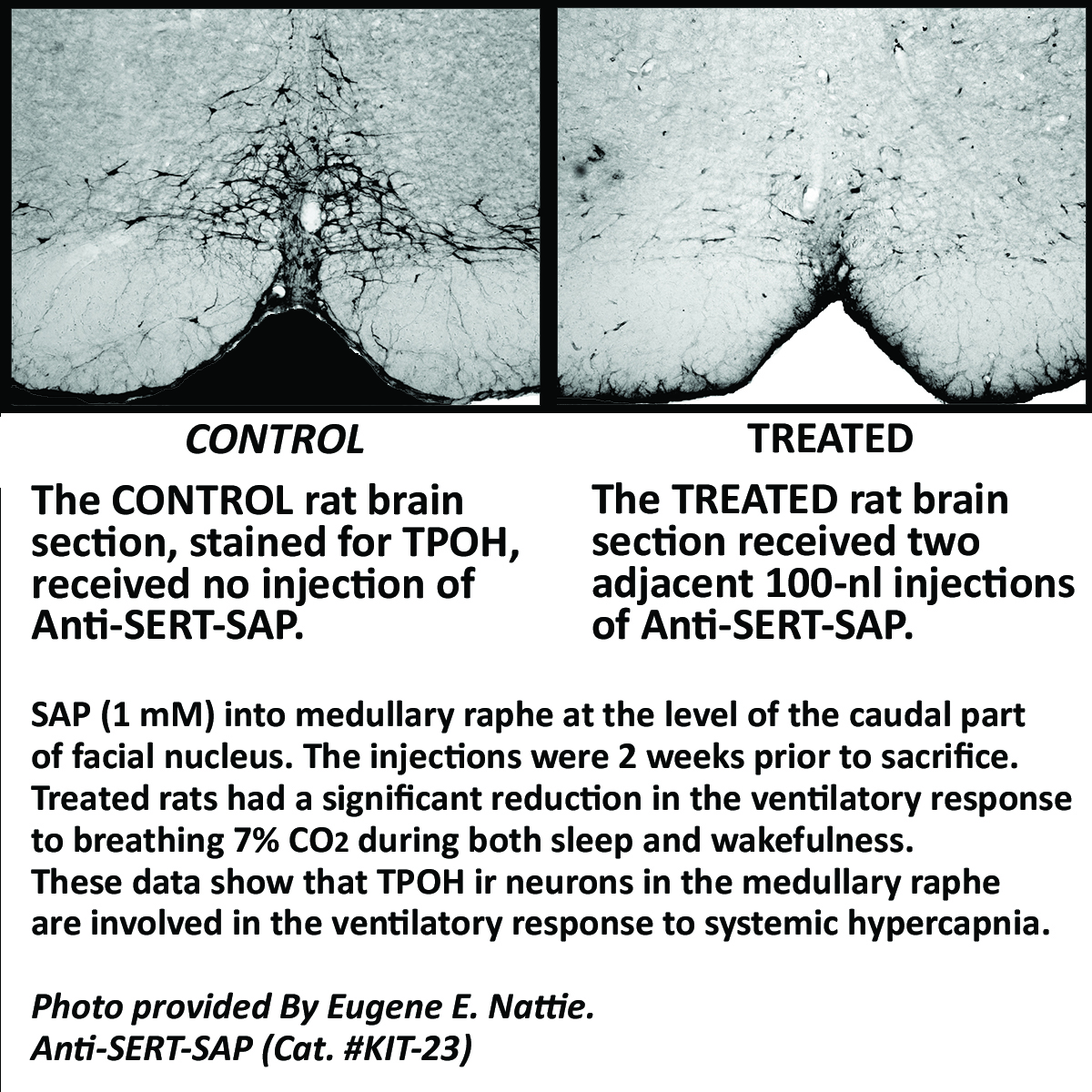 This kit includes Anti-SERT-SAP (Cat. #IT-23) plus Mouse IgG-SAP (Cat. #IT-18) and SERT Mouse Monoclonal (Cat. #AB-N40). This antibody recognizes cells that express SERT in rat, human, and mouse. The immunogen is a peptide from the fourth extracellular domain of the rat SERT. This antibody was produced in tissue culture supernatants and purified by 50% (NH4)SO4 cut followed by protein A column chromatography. It has been conjugated to biotin via an amide bond.
Anti-SERT-SAP utilizes a monoclonal antibody to the fourth extracellular domain of the serotonin re-uptake transporter (SERT). The sequence of the peptide antigen is identical in rat, mouse, human, and other mammalian species. SERT is the major determinant of serotonin inactivation following release at synapses, is the site of action for many tricyclic antidepressants and the SSRIs (serotonin-selective reuptake inhibitors), and is also targeted by a number of psychostimulants including cocaine, methylphenidate, and MDMA 'ecstasy.' SERT is produced from a single gene and is expressed in both the CNS and GI system.
Anti-SERT-SAP specifically eliminates SERT-expressing cells in vitro and in vivo. All other cells are left untouched.