This issue of Targeting Trends brings an exciting report of new partners that will bring more products, more expertise, and more service to our customers around the world. The primary purpose for making this change is to better facilitate the various functions that serve you, our customer. This restructure will also challenge and reward our long-time employees with the responsibility of managing their own strategic unit.
Brian Russell, celebrating his 16th anniversary at ATS on October 2nd, will be managing BioSyntheSys. His team will provide custom conjugation services: ADCs, saporin conjugates, biotinylations, fluorescent labeling, etc. Log on to BioSyntheSys.com to enter your contact information to discuss your next conjugation service.
Leonardo Ancheta, celebrated his 13th anniversary at ATS on September 2nd, and will be managing CytoLogistics' contract services division. Leonardo's team will provide flow cytometry services, cell culture, laboratory assays, antibody production, and GLP contract services. Log on to CytoLogistics.com to reserve your next service.
Doug Lappi (Founder and President Emeritus of ATS) will be heading up the Research Division of CytoLogistics. His team will work on product development and offer stellar laboratory expertise and consulting in Biochemistry, Molecular Biology, assay development, Cell biology and standard laboratory skills.
Tom Cobb and Chelsea Friedman will be co-managing TLC Shipping & Storage. Tom has extensive experience with shipping logistics and will ensure that all orders are packaged, shipped and tracked to their destinations worldwide. Chelsea is a scientist with an excellent background in storage and handling of research reagents (biologics, antibodies, etc.) and will manage the inventory tracking of multiple temperature storage units. Log on to TLCshipstorage.com to see the services they have to offer.
As for me, I will be continuing to manage Advanced Targeting Systems with an emphasis on administrative support for all of our partners. By consolidating all the administrative functions (customer orders, sales & marketing, purchasing, payroll, licensing, legal, etc.) for multiple entities, there is greater efficiency and organization in the processes. We are all excited about the prospects for each of our partners and for the greater service we can provide to our customers.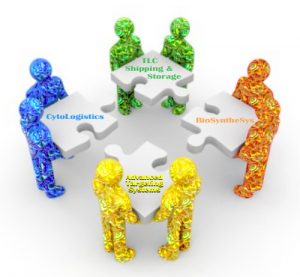 Four partners with unique strengths combine to complete the Targeting Puzzle:
• Advanced Targeting Systems will continue to provide excellent Customer Service
• BioSyntheSys will provide quality conjugation services
• CytoLogistics will provide consistent, reliable antibody production, flow cytometry, and other laboratory services
• TLC Shipping & Storage will ensure all products are stored, packaged and shipped properly