Below are links to view the quarterly newsletter Targeting Trends. If you would like to be added to the mailing list, please complete the information on our contact page.
---
Newsletter Highlights
FENS-Barcelona; Spring Brain Conference (page 2)
LD50 of saporin immunotoxins in mice; Antagonists vs. Targeted Toxins (page 5)
Teaser Winners (page 5)
Mac-1-SAP; Anti-GST; Anti-SERT-SAP (page 7)
Complete and Submit the Targeting Teaser online!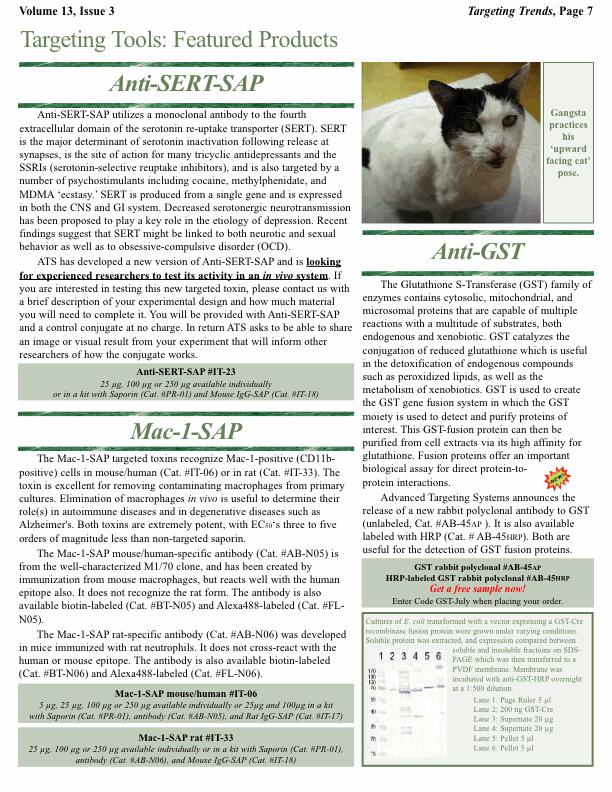 A pivotal role of lumbar spinothalamic cells in regulation of ejaculation via intraspinal connections – read article (continued on page 6)
Contributed by Lique M. Coolen, University of Michigan Product information related to cover article: SSP-SAP (Cat. #IT-11), Blank-SAP (Cat. #IT-21)
SBC Advances Brain Research / March 20-23, 2013 / springbrain.org
Forum of European Neurosciences (FENS) / July 14-18, 2012 / Barcelona, SPAIN / Booth #61
Society for Neurosciences (SFN) / October 13-17, 2012 / New Orleans, LA
American Society for Cell Biology (ASCB) / December 15-19, 2012 / San Francisco, CA
Recent Scientific References (read online)
Abbott SB, Kanbar R, Bochorishvili G, Coates MB, Stornetta RL, Guyenet PG. (2012) C1 neurons excite locus coeruleus and A5 noradrenergic neurons along with sympathetic outflow in rats. J Physiol 590(12):2897-2915. (Cat. #IT-11)
Bergersen LH, Morland C, Ormel L, Rinholm JE, Larsson M, Wold JFH, Roe AT, Stranna A, Santello M, Bouvier D, Ottersen OP, Volterra A, Gundersen V. (2012) Immunogold Detection of L-glutamate and D-serine in Small Synaptic-Like Microvesicles in Adult Hippocampal Astrocytes. Cereb Cortex 22(7):1690-1697. (Cat. #AB-T08)
Field RH, Gossen A, Cunningham C. (2012) Prior pathology in the Basal forebrain cholinergic system predisposes to inflammation-induced working memory deficits: reconciling inflammatory and cholinergic hypotheses of delirium. J Neurosci 32(18):6288-6294. (Cat. #IT-16)
Gulino R, Gulisano M. (2012) Involvement of brain-derived neurotrophic factor and sonic hedgehog in the spinal cord plasticity after neurotoxic partial removal of lumbar motoneurons. Neurosci Res 73(3):238-247. (Cat. #IT-14)
Hawryluk JM, Ferrari LL, Keating SA, Arrigoni E. (2012) Adenosine inhibits glutamatergic input to basal forebrain cholinergic neurons. J Neurophysiol 107(10):2769-2781. (Cat. #FL-05)
Hu J, Huang T, Li T, Guo Z, Cheng L. (2012) c-Maf is required for the development of dorsal horn laminae III/IV neurons and mechanoreceptive DRG axon projections. J Neurosci 32(16):5362-5373. (Cat. #AB-N03)
Kirillova V, Prosviryakov E. (2012) Disrupted serotonergic system in patients with pulmonary hypertension may serve as novel biomarkers new therapeutic targets and to assess severity, progression and response to treatment. Cardiovasc Res 93 Suppl 1:P209. (Cat. #AB-N09 discontinued)
Sanchez-Ortiz E, Yui D, Song D, Li Y, Rubenstein JL, Reichardt LF, Parada LF. (2012) TrkA gene ablation in basal forebrain results in dysfunction of the cholinergic circuitry. J Neurosci 32(12):4065-4079. (Cat. #AB-N03)
Savage S, Mattsson A, Olson L. (2012) Cholinergic denervation attenuates phencyclidine-induced c-fos responses in rat cortical neurons. Neuroscience 216:38-45. (Cat. #IT-01, Cat. #PR-01)
Sikandar S, Bannister K, Dickenson AH. (2012) Brainstem facilitations and descending serotonergic controls contribute to visceral nociception but not pregabalin analgesia in rats. Neurosci Lett 519(1):31-36. (Cat. #IT-12)
Smith CD, Holschbach MA, Olsewicz J, Lonstein JS. (2012) Effects of noradrenergic alpha-2 receptor antagonism or noradrenergic lesions in the ventral bed nucleus of the stria terminalis and medial preoptic area on maternal care in female rats. Psychopharmacology (Berl) Epub (Cat. #IT-03, Cat. #IT-18)
Tai SK, Leung LS. (2012) Vestibular stimulation enhances hippocampal long-term potentiation via activation of cholinergic septohippocampal cells. Behav Brain Res 232(1):174-182. (Cat. #IT-01)
Talman WT, Dragon DN, Jones SY, Moore SA, Lin LH. (2012) Sudden Death and Myocardial Lesions after Damage to Catecholamine Neurons of the Nucleus Tractus Solitarii in Rat. Cell Mol Neurobiol Epub (Cat. #IT-03)
Taylor AM, Osikowicz M, Ribeiro-da-Silva A. (2012) Consequences of the ablation of nonpeptidergic afferents in an animal model of trigeminal neuropathic pain. Pain 153(6):1311-1319. (Cat. #IT-10, Cat. #PR-01)
Ye Y, Dang D, Viet CT, Dolan JC, Schmidt BL. (2012) Analgesia Targeting IB4-Positive Neurons in Cancer-Induced Mechanical Hypersensitivity. J Pain 13(6):524-531. (Cat. #IT-10, Cat. #PR-01)
Targeting Talk: Product Questions (see text)
Targeting Teaser Winners
Targeting Tools
Targeting Teaser (Jumble)