One week into the 6-week world tour and I am just getting to this!  My apologies.
May 31:  Arrived in London (Heathrow) and transferred via car to a Gatwick Hotel to prepare for an early flight on June 1 to Catania.  Stayed at Sofitel London Gatwick, located at North Terminal.
June 1:  Discovering that the flight was to depart from the South Terminal caused a bit of consternation, but it was soon revealed that there was a shuttle just through a short tunnel from the hotel that connected to the appropriate departure area in less than 5 minutes.  Phew!
Arrived in Catania to stay at Liberty Hotel, with the afternoon to do a bit of exploring.
The Liberty Hotel is a delightful place to stay.  It gets its name from the Liberty style of design and decoration.  You can see some pictures here.
"Liberty Style or Floral Style is a unique Italian art movement that became important in Sicily thanks to Giovan Battista Filippo and Ernesto Basile; Liberty is a branch of the new movement that affected art in Europe and assumed different forms in different countries, all clearly related to the attitude of rupture and renewal assumed over the previous art: Modern Style, Jugendstil, Art Nouveau, Sezessionstil, modernism, etc."
Upon recommendation of the charming and helpful Desk Clerk at the Liberty Hotel, the dinner destination was set for a restaurant named BeQuiet.  It was charming, quiet (how appropriate!), and the waitress was delightful.  I ordered something that, in English may not seem a good choice, but it was delicious!  Stinco de Maiale  (pronounced Stinko) is pork shank oven-roasted with garlic, rosemary and potatoes.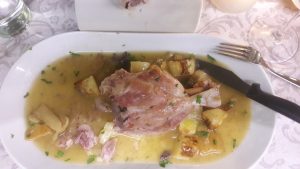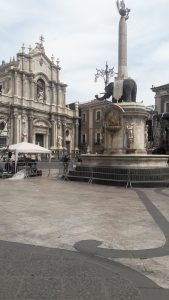 June 2:  The car to transport from Catania to Taormina was scheduled to arrive at 4pm, so there was time for some tourism.  Advice from Bob Sloviter was that a must-see was the Elephant's Fountain.  The elephant is the symbol of Catania.
 "The Elephant's fountain or even "Liotru's fountain" was built by Gianbattista Vaccarini in 1757, who was inspired by the elephant of Minerva in Rome designed by Bernini.  The Palermo architect built the fountain using some historical relics of the city as symbol of rebirth after the eruption and the earthquake in 1669 and 1693, on the top he places the "U' Liotru" (the elephant in Catania dialect) in lava stone, dates back to Roman age, that brings on back the Egyptian obelisk donated from the Circus Maximus to the city in medieval times."
The piazza was being prepared for the evening's concert by Carmen Consoli & Friends.  When looking up her music, what a surprise to see Orfeo listed as the first song.  ATS has used music from L'Orfeo opera for music on hold for many years.  Unfortunately, unlike an occasion in Milan when a concert could be quite clearly heard from the hotel, this one was not audible outside the Piazza del Duomo.  An opportunity missed to see a wonderful live concert; the musicians warming up and testing sound levels was enjoyable on its own.
Arrived in Taormina to Hotel Paradiso around 5:30pm.  Had dinner on the 6th floor with a beautiful view.  More on Taormina in the next post!
Ciao!