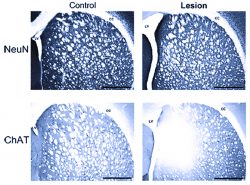 Online orders only, enter ChATBOGO to receive one vial or kit free when you purchase one vial or kit of any Anti-ChAT-SAP product.
Add both products to the shopping cart and the second product (equal or lesser value) will be credited by confirmation email.
Choose from the following products:
Anti-ChAT-SAP [IT-42], [KIT-42]
Choline Acetyltransferase Rabbit Polyclonal [AB-N34]
Choline Acetyltransferase Rabbit Polyclonal, affinity-purified [AB-N34AP]
Also, check out these other tools for studying learning and memory:
Anti-DBH-SAP [IT-03], [KIT-03]
NOTE:  You may not see a discount in pricing at checkout, but correct pricing will be confirmed after you submit your order.
Legend to Figure:  Histological verification of specific lesions of cholinergic interneurons. Representative coronal sections of the rat striatum show intact NeuN staining but clear ablation of the cholinergic interneurons in ChAT staining.
Aoki et al. 2015, J Neurosci 35(25):9424 -9431.